Similar to H-Piles, Pipe Piles are also designed to transfer structural loads through the foundation to soils below.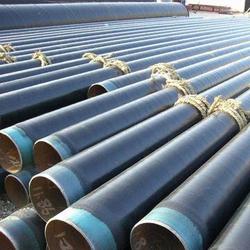 Foundation pipe
Process
ERW (Electric Resistance Welded)
HFI (High Frequency Induction)
EFW(ELECTRIC FUSION WELDED TUBE)
LSAW (Longitudinal Submerge-arc Welded) UO(UOE),RB(RBE),JCO(JCOE)
DSAW (Double Submerged arc welded)
SAW (Spiral Welded)
SSAW (Spiral Submerged-arc Welded)
Quality Standard
ERW HFI , EFW, LSAW, DSAW
ASTM A53 Standard Specification for Pipe, Steel, Black and Hot-Dipped, Zinc-Coated, Welded and Seamless
DIN 2458 WELDED STEEL PIPES AND TUBES
EN10217 Welded steel tubes for pressure purposes. Technical delivery conditions. Non-alloy steel tubes with specified room temperature properties
SAW SSAW
SY/T 5040 Spiral submerged arc-welded steel pipe piles
CJ/T 3022 Spiral submerged-arc welded steel pipe for municipal heat supply
ASTM A252 WELDEDAND SEAMLESS STEEL PIPE PILES
Coating Standard
ANSI/AWWA C104/A21.4 American National Standard for Cement-Mortar Lining for Ductile-Iron Pipe and Fittings for Water
ISO 21809 Petroleum and natural gas industries -- External coatings for buried or submerged pipelines used in pipeline transportation systems
DIN 30670 Polyethylen coatings of steel pipes and fittings
Steel Grade
SY/T5037, SY/T 5040,CJ/T 3022
Q195, Q215, Q235, Q275, Q295, Q345, 08F, 08, 08AL, 08F, 10F, 10, HG5, DF08 SPHC, M8
BS 1387, EN10217 S185, S235, S235JR, S235 G2H, S275, S275JR, S355JRH, S355J2H, St12, St13, St14, St33, St37, St44, ST52
ASTM A 53 Gr. A, Gr B, Gr C, Gr.D
Size
ERW, HFI, EFW
Outer Diameter 219mm-610mm (1/16"-24")
Wall Thickness 5mm-22mm
Length 0.5mtr-20mtr
LSAW, DSAW
Outer Diameter 219mm-1820mm
Wall Thickness 5.0mm-50mm
Length 6mtr-18mtr
SAW SSAW
Outer Diamter 219.1mm - 4064mm (8" - 160")
Wall Thickness 5mm - 40mm
Length 6mtr-18mtr
.