Type: carbon seamless steel pipe,Carbon steel pipe
A53

A53 Chemical components and mechanical property

Stan-

dard

Trade-mark

Chemical components

mechanical property

C

Si

Mn

P

S

Cu

Ni

Mo

Cr

V


Tensile
Strength

(Mpa)

Yield
Strength

(Mpa)

Elong
ation

(%)

ASTM

A53

A

≤0.25

/

≤0.95

≤0.05

≤0.06

≤0.04

≤0.40

≤0.15

≤0.04

≤0.08

≥330

≥205

≥29.5

B

≤0.30

/

≤1.2

≤0.05

≤0.06

≤0.04

≤0.40

≤0.15

≤0.04

≤0.08

≥415

≥240

≥29.5
A106

A106 Chemical components and mechanical property

Stan

dard

Trade
mark

Chemical components

mechanical
property

C

Si

Mn

P

S

Cu

Ni

Mo

Cr

V


Tensile
Strength

(Mpa)

Yield
Strength

(Mpa)

Elong
ation

(%)

ASTM

A106

B

≤0.30

≤0.10

0.29~
1.06

≤0.035

≤0.035

≤0.04

≤0.40

≤0.15

≤0.04

≤0.08

≥415

≥240

≥30

C

≤0.35

≤0.10

0.29~
1.06

≤0.035

≤0.035

≤0.04

≤0.40

≤0.15

≤0.04

≤0.08

≥485

≥275

≥30
A179

A179 Chemical components and mechanical property

Stan-

dard

Trade-mark

Chemical components

mechanical property

C

Si

Mn

P

S

Cu

Ni

Mo

Cr

V

Tensile
Strength

(Mpa)

Yield
Strength

(Mpa)

Elongation

(%)

ASTM

A179

A179

0.06~
0.18

/

0.27~
0.63

≤0.035

≤0.035

/

/

/

/

/

≥325

≥180

≥35
A192

A192 Chemical components and mechanical property

Stan-

dard

Trade-mark

Chemical components

mechanical property

C

Si

Mn

P

S

Cu

Ni

Mo

Cr

V

Tensile
Strength

(Mpa)

Yield
Strength

(Mpa)

Elong
ation

(%)

ASTM

A 192

A192

0.06~
0.18

≤0.25

0.27~
0.63

≤0.035

≤0.035

/

/

/

/

/

≥325

≥180

≥35
1.certificate:API&ISO
2.brand:hebei HR steel
3: Place of origin:CN
with big stock and preferabe price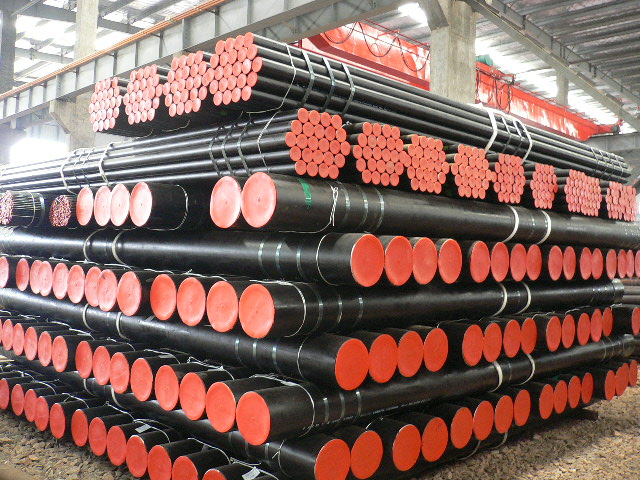 Product name

API5L grade X42 X46 X52 X56 X60 Line pipe / steel pipe / seamless carbon steel pipe

Out diameter

18mm-813mm, 3/8"-32"

Wall Thickness

1.5mm-80mm, SCH 5S, SCH 10S, SCH10, SCH20, SCH30, STD, SCH40,
SCH60, XS, SCH80,SCH100,SCH120,SCH140,SCH160,XXS etc.

Standard

API 5L, API 5CT, ASTM A53, ASTM A252, ASTM A500, ASTM A795, BS1387,
BS1139, EN10255, EN10219, EN10217, EN39, DIN2440/2444, ISO3183,
ISO11960, JISG3444, JISG3454 etc.

Quality grade

First class, prime, newly produced, stock etc.

Material/steel grade

A25, A25P, A, B, X42, X46, X52, X56, X60, X65, X70, L175, L175P, L210, L245, L290, L320
, L360, L390, L415, L450, L485, BR, X42R, BN, X42N, X46N, X52N, X56N, X60N, BQ, X42Q,
X46Q, X52Q, X56Q, X60Q, X65Q, X70Q, X80Q, BM, X42M, X46M, X52M, X56M, X60M, X65M,
X70M, X80M, X90M, X100M, L245R, L290R, L245N, L290N, L320N, L360N, L390N, L415N,
L245Q, L290Q, L320Q, L360Q, L390Q,L415Q, L450Q, L485Q, L555Q, L245M, L290M, L320M,
L360M, L390M, L415M, L450M, L485M, L555M, L625M, L690M, H40, J55, K55, M65, L80, C95,
N80, C90, T95, P110, ,Q125, S235GT, S195T, Grade 1, Grade 2, Grade 3, ST33-2, St33, St37,
St42, St34-2, St37-2, St42-2, St52-3, P195, P235, P265, S235JRH, S275J0H, S275J2H, S355J0H,
S355J2H, S355K2H,S275NH, S275NLH, S355NH, S355NLH, S460NH, S460NLH, S275MH, S275MLH,
S355MH, S355MLH, S420MH, S420MLH, S460MH, S460MLH, TW.O, TS.O, STK290, STK400,
STK490, STK500, STK540, STPG370, STPG410 etc.

End

Plain end, beveled, cut square, grooved, threaded and coupling, etc.

Finish

Bare, varnished, zinc coating, anti-corrosion, 3PE/PP/EP/FBE, etc.

Length

1m-14m

MOQ

Usually 50 Metric Ton, also depending on production schedule and stock

condition etc.

Deliver Time

Usually 15-30 days after receipt of deposit /LC

Packing

Small sizes packed by steel strips into bundles, big sizes in loose pieces;

can be packed as customers' special requirements

Payment terms

T/T and/or L/C

Application

line pipe for use in pipeline transportation systems in the petroleum and natural gas industries,

for use as casing and tubing for wells, screwed and socketed steel tubes and tubulars and for plain end steel tubes

suitable for welding or for screwsing to BS21 pipe threads, loose steel tubes, scaffolds,

used for the conveyance of fluids as well as for other applications, applies to pipe piles in which the steel|
cylinder acts as a permanent load-carrying member, or as a shell to form cast-in-place concrete piles,

for welded, riveted,or bolted construction of bridges and buildings, and for general structural purposes,

suitable for nominal pressure 25 for liquids and nominal pressure 10 for air and non-hazardous gases,

pressure purposes,

applies to structural hollow sections,

general structure purpose and pressure service etc.
---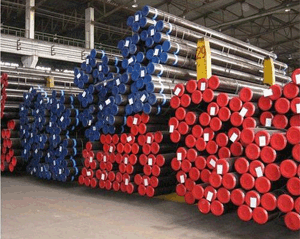 product: ASTMA106-B ASTMA53-B API 5L
OD:609.6mm
WT:34.93mm
| | |
| --- | --- |
| Type: | Carbon steel pipe |
| Technique: | seamless |
| Place of Origin: | HeBei China(Mainland) |
| Standard: | ASTM GB |
| Material: | A106B A53 |
| Packaging: | standard packing suitable for exporting by sea |
| Applications Range: | oil pipe structure pipe |
| Payment Terms: | L/C T/T |
| Min Order Quantity: | 50Ton |
| Delivery Time: | According to customers requirement |
Cangzhou HR Steel-Pipe Co., Ltd., is located on the Industrial Zone, MENG CUN County, Hebei Province.
It is one of the largest enterprises that specialize in producing and selling steel pipes and pipe fittings in
North China. It is of convenient transportation as it is only 200 km away from Xingang, Tianjin, China.
Our company covers an area of 80, 000 m2 with a total assets of 90 million Yuan. There are 360 staff
members including 80 technicians in our company. We also establish an effective complete quality control
system. In 2003, our company obtained the certificate of ISO9001 Quality System Authentification,
and it started to run in accordance with API 5L and API 5CT Carbon steel pipe in 2004.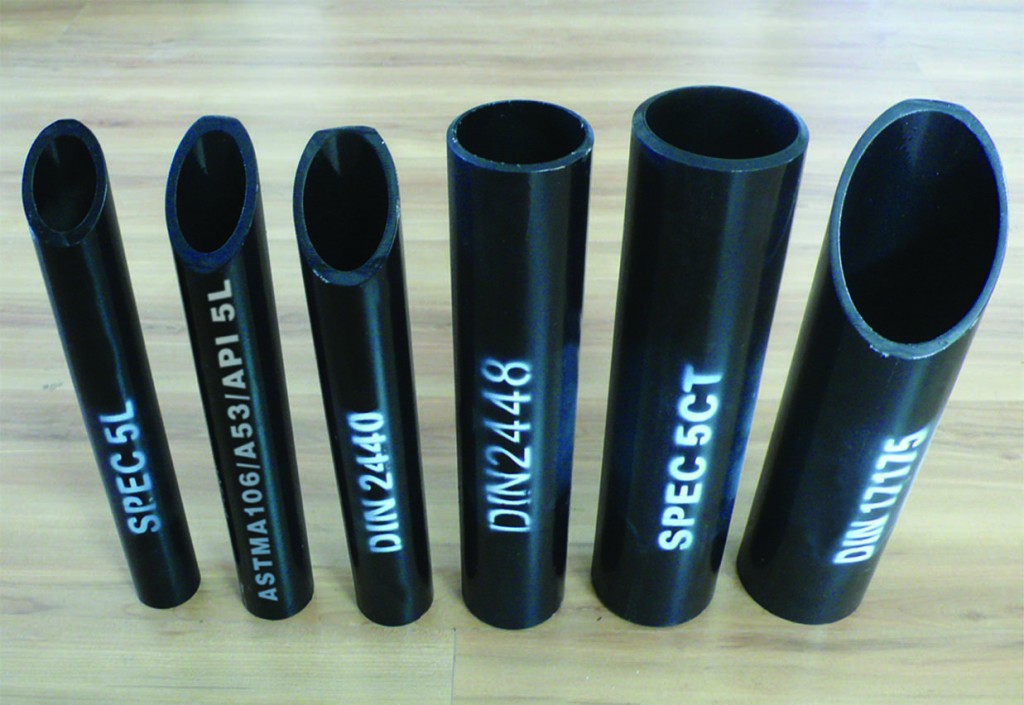 Our company is equipped with sophisticated manufacturing and testing equipments, and a complete testing system has been established which includes advanced testing equipments, such as X-ray detector, ultrasonic wave detector, hydrostatic tester, tension tester, metallurgical analyzer and physical & chemical lab, etc. These equipments and technologies guarantee that the production and testing processes are up to relevant standards, so that the products are satisfied by the requirements of clients doubtlessly
.