Insulation Large Diameter Spiral Steel Pipe Structure and Features
Insulation large diameter spiral steel pipe features:
Polyurethane foam has good mechanical properties and thermal insulation properties. It can withstand 120°C under normal conditions. It can withstand 180°C by modifying or combining with other insulation materials.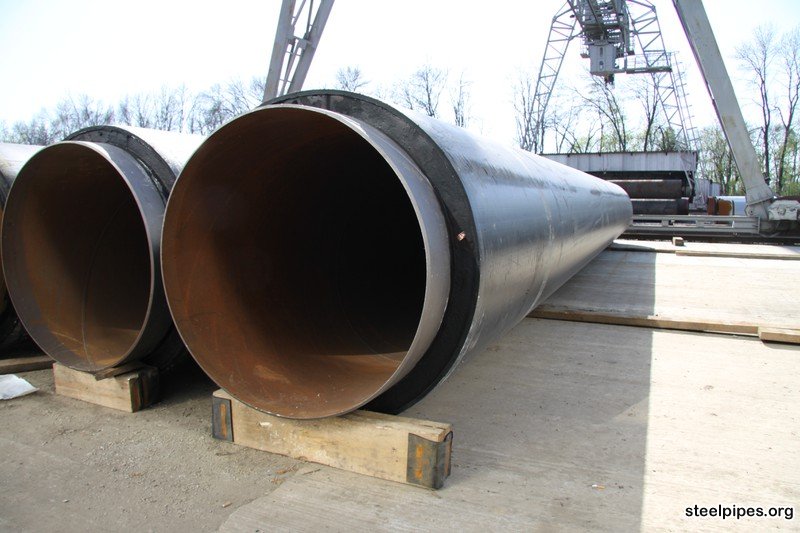 Spiral steel pipe has a strong thermal insulation property, which can ensure that the temperature of the internal transport material is not changed by the outside world and has good cold resistance in winter. Spiral steel pipe soundproofing performance is very good, to avoid the sound of liquid flowing in the pipeline when the transport is disturbing people. At the same time, the spiral steel pipe is able to do anti-corrosion and does not absorb water, so that the installation position of the pipeline is not limited, and it can be used at various locations. Spiral steel pipe construction is simple and efficient, high efficiency, reduce capital costs. Spiral steel pipes are used for low heat loss and can save energy.
According to calculations by related departments, dual-control heat supply pipes can generally be reduced by 25% of the construction cost (using FRP as a protective layer) and 10% (using high-density polyethylene as a protective layer).
Spiral steel pipe thermal conductivity: λ = 0.013-0.03kcal/m • h • oC, much lower than other pipe insulation materials commonly used in the past, the insulation effect increased by 4 ~ 9 times. In addition, its water absorption is very low, about 0.2 kg/m2. The reason for the low water absorption is that the closed cell ratio of the polyurethane foam is as high as about 92%. The low thermal conductivity and low water absorption, coupled with insulation layers and high-density polyethylene or FRP shells with good water-repellent properties, have changed the status of the traditional trench laying heating pipe "wet cotton padded jacket", which greatly reduced the number of heating pipes. The overall heat loss, thermal network heat loss is 2%, less than the international standard of 10%.
Insulation large diameter spiral steel pipe structure:
(1) Core pipe: Working steel pipe for steam delivery.
Core tube material properties, outer diameter dimensions, dimensional tolerances, and minimum wall thickness are in compliance with the relevant national or industry standards. The surface of the core tube removes rust, grease, moisture, and other contaminants.
(2) Protection cushion: The sandwich between the core tube and the insulation layer to prevent the inorganic insulation from being damaged due to displacement of the core tube. When the core pipe is made of spiral welded steel pipe and the inorganic insulation layer is a hard material, a protective cushion layer is provided. The protective cushion layer is generally made of aluminum silicate felt, density ≤ 192kg/m3, room temperature thermal conductivity ≤ 0.056w/(m•k), and heating line shrinkage rate ≤ 4%.
(3) Organic insulation layer: insulation layer made of organic insulation material. Polyurethane rigid foam, density 55-65kg/m3, compressive strength ≥ 0.2MPa, normal temperature thermal conductivity ≤ 0.027w/(m•k), water absorption ≤ 3%, applicable temperature ≤ 140°C.
(4) Insulation layer: Insulation layer made of high temperature resistant inorganic insulation material. Room temperature thermal conductivity ≤ 0.055w (m•k) Depending on the structure, microporous calcium silicate (density ≤220kg/m3), magnesium silicate, rock wool (density ≥110kg/m3) can be selected, and the moisture content of the material can be selected. Temperature, compressive strength and other indicators can also meet relevant requirements.
(5) Outer protective pipe: An outer protective layer that protects the insulation from groundwater, supports the core pipe, and can withstand a certain pressure. According to different materials, it is generally divided into steel outer tube, high density polyethylene plastic outer tube, glass fiber reinforced plastic outer tube, composite outer tube and so on. This product generally uses high-density polyethylene (PE) as the outer protective tube, but in areas with high water levels or surface water, steel outer protective tubes must be used. Steel outer tube material properties and tolerances are in compliance with relevant national or industry standards. The outer surface of the steel tube is shot blasted.
.