ms pipe, ms seamless pipe, ms steel pipe
20# 45# 16Mn 27SiMn 12Cr1MoV 15CrMo 10CrMo910
Product name: ms pipe, ms seamless pipe, ms steel pipe
Place of Origin: China
Grade: 20# 45# 16Mn 27SiMn 12Cr1MoV 15CrMo 10CrMo910
Diameter range: 6mm-760mm
Wall thickness: 1mm-60mm
Length: the max is 12m or as customers' required
Tolerance: meet the standard.
Standard: ASTM A53Gr.B A106Gr.B DIN JIS or GB standard
Application:The products are widely used in fertilizer, petroleum, centra-station, boiler, power station, shiping military, chemical industry, environment protection, traffic, food industry, medical equipement and so on.
Payment: T/T and L/C or negotiation
Protection: supply varnish coating, bevel end, plastic cap.
We always do business on the basis of mutural benefit.
other materials: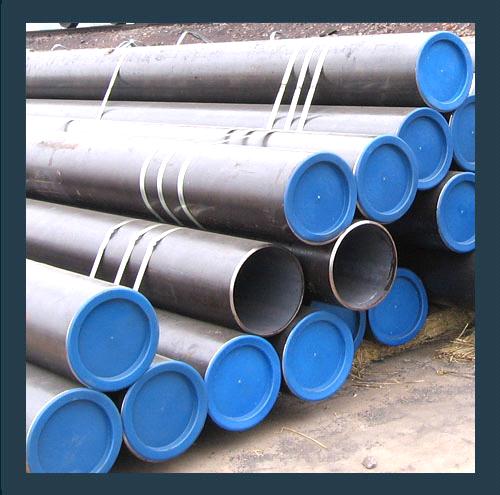 Casing Pipe/Oil pipe

Seamless or welded According to

API-5CT standard

J55\K55\N80\L80\P110/M65/C95 , LTC/STC/BTC;

EUE/NUE

Seamless line pipe/API -5L

PSL 1:A25\A\B\X42\X46\X52\X56\X60\X65 \X70

PSL 2:B\X42\X46\X52\X56\X60\X65\X70\ X80

Carbon seamless pipe

SMLS/ERW/LSAW/SSAW

1. A210-C St52.4\St52 STS49

2. ASTM A106 GR.A\B\C; ASTM A53 GR.A\B /API 5L-GrB

3. DIN1629 4. JIS G3454 5. ASTM A192\A210\A179

6. DIN17175 7. JIS G345 8. JIS G3456 9. BS1387

10. GB / T 6728, ASTM A 500, EN 10217, Q195-Q235

11. ST35.8/ST45.8 12. DIN2448, 13. DIN 1629

Alloy pipe

Alloy pipe

Seamless or welded

ASTM/ASME A/SA

210 (Gr. A1,C), 556, 213 (T1, T2, T5, T9, T11, T12, T22)

335 (Gr P1, P2, P5, P9, P11, P12, P22) 333 (Gr.1,3.,6) 209(T1, T1A, T1 b)

DIN

17175 ( Gr.4538, 15Mo3, 13CrMo44, 10CrMo910)

2448 ( Gr. ST37), 1630 (ST37.4, 44.4),
BS3059 (Gr CFS 360,440, 243, 620, 622-440, 622-490),

980 (Gr.CDSI), 6323 (CFS3), 3602/1 (Gr.360, 430)

A335-P1 15Mo3 STPA12

A335-P2\A213-T2 STBA20

A335P12\A213T12 13CrMo44 STBA22

A335-P11\A213-T11 STBA23

A335-P22\A213T22 10CrMo910 STBA24

A335-P5\213-T5 12CrMo195 STBA25

A335-P91\A213-T91

Stainless steel pipe

Seamless or welded

304(0Cr18Ni9 ) 304L(00Cr19Ni10 ) 321(1Cr18Ni9Ti )

321(0Cr18Ni10Ti)316(0Cr17Ni12Mo2)316L(00Cr17Ni14Mo2)316L(00Cr18Ni12Mo2Ti)
310S(0Cr25Ni20) 310S(1Cr25Ni20Si2)904L(00Cr20Ni25Mo4)
---
ms pipe 1.100% manufactured by owned factory
2.OD:40-610mm,WT:3-30mm
3.Length:Max 12 m
4.Tolerance:OD<0.5%.WT<10%
5.delivery:20
Product Name

ms pipe size

Outside Diameter(mm)

13.7mm-610mm

Wall thickness(mm)

2mm-60mm

Certification

ISO:9000, API 5L, API 5CT

Standard

1.ASTM A106/A53 GR.A; ASTM A106/A53 GR.B; ASTM A53/A106 GR.C

2.APL 5L GR.B, API 5CT J55, K55, N80

3.DIN, JIS, BS, EN

Grade

A, B, C, ST33, ST37, ST35.8, ST45-8, ST45-4, ST52

Place of Origin

Hebei Cina

Face finished

1.Manual polished

2.mechanical polished

3.black paint on the face

4.anti-rust oil and caps on both ends

5.galvanized

Export

Europe, South America, the Middle East, Africa, Asia and other countries and regions, well received by consumers!

Seamless theoretical weight

seamless calculation formula: (OD - Wall Thickness) × thickness × 0.02466 = Seamless weight per meter

Process Method

1.Cold Drawn

2.Cold rolled

3.Hot rolled

4. Hot expanded

Application

Tube with hollow cross-section, a large number of channels for transporting fluids, such as the transportation of oil, natural gas, gas, water and some solid materials, pipes, etc..

Package

1.Inner Packing:Caps at both ends, steel strong trips on every bundle

2.Outer Packing:Standard export package or as per clients' requirements
.