seamless tube astm a333 Gr.6
OD: 6-1219mm
WT: 1-80mm
Most Competitive price
Best Quality
Features:
astm a333 gr6 seamless tubes seamless tube astm a333 Gr.6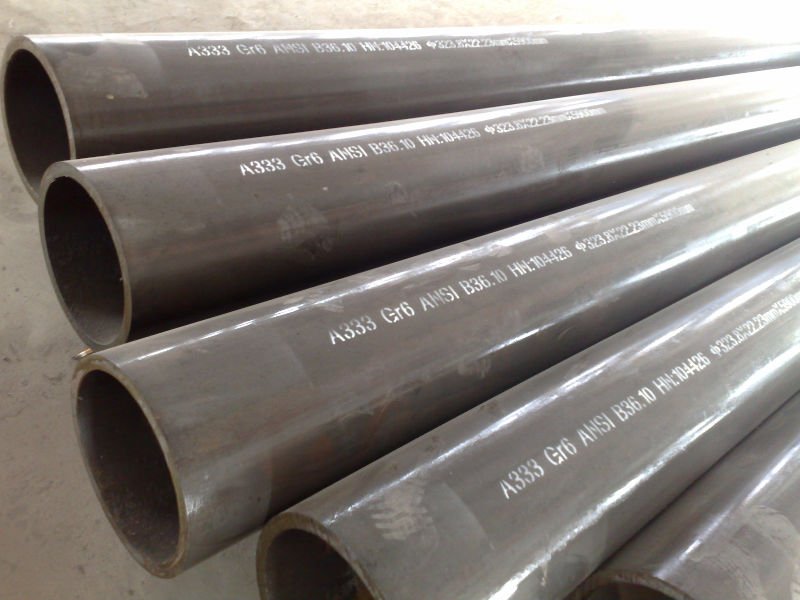 Alloy steel seamless pipe/alloy pipe/alloy steel pipe t91/astm a213 t9 pipes/q345 alloy pipe/astm a213 t9 pipes/st52 alloy pipe/st52 alloy tube/alloy tube alloy tube sch40
Standards
ASTM, BS, DIN, JIS, GB, etc.
Grade:Q345A/B, Cr5Mo, 12Cr1MoV, 10CrMo910,,27SiMn, 15CrMo, 30CrMo, 34CrMo4, etc
Other standard and grade is also availalbe as per clients' requirements
Specification:
O.D.12-1020mm, W.T. 1-60mm.
Bevelled/plain end or varnished to be confirmed by clients
Marking: as per customer's requirement

Dimensions, Mechanical properties, Chemical compositions:
Refer to relative standard as per clients requirements
Packing:
Bundles, seaworthy wooden cases
With or without edge protector, steel hoop and seals, or as per customers' requirements
other material or pipes we also can supply:
Casing Pipe/Oil pipe

Seamless or welded According to

API-5CT standard

J55\K55\N80\L80\P110/M65/C95 , LTC/STC/BTC;

EUE/NUE

Seamless line pipe/API -5L

PSL 1:A25\A\B\X42\X46\X52\X56\X60\X65 \X70

PSL 2:B\X42\X46\X52\X56\X60\X65\X70\ X80

Carbon seamless pipe

SMLS/ERW/LSAW/SSAW

1. A210-C St52.4\St52 STS49

2. ASTM A106 GR.A\B\C; ASTM A53 GR.A\B /API 5L-GrB

3. DIN1629 4. JIS G3454 5. ASTM A192\A210\A179

6. DIN17175 7. JIS G345 8. JIS G3456 9. BS1387

10. GB / T 6728, ASTM A 500, EN 10217, Q195-Q235

11. ST35.8/ST45.8 12. DIN2448, 13. DIN 1629

Alloy pipe

Alloy pipe

Seamless or welded

ASTM/ASME A/SA

210 (Gr. A1,C), 556, 213 (T1, T2, T5, T9, T11, T12, T22)

335 (Gr P1, P2, P5, P9, P11, P12, P22) 333 (Gr.1,3.,6) 209(T1, T1A, T1 b)

DIN

17175 ( Gr.4538, 15Mo3, 13CrMo44, 10CrMo910)

2448 ( Gr. ST37), 1630 (ST37.4, 44.4), BS3059 (Gr CFS 360,440, 243, 620, 622-440, 622-490),

980 (Gr.CDSI), 6323 (CFS3), 3602/1 (Gr.360, 430)

A335-P1 15Mo3 STPA12

A335-P2\A213-T2 STBA20

A335P12\A213T12 13CrMo44 STBA22

A335-P11\A213-T11 STBA23

A335-P22\A213T22 10CrMo910 STBA24

A335-P5\213-T5 12CrMo195 STBA25

A335-P91\A213-T91

Stainless steel pipe

Seamless or welded

304(0Cr18Ni9 ) 304L(00Cr19Ni10 ) 321(1Cr18Ni9Ti )

321(0Cr18Ni10Ti)316(0Cr17Ni12Mo2)316L(00Cr17Ni14Mo2)316L(00Cr18Ni12Mo2Ti) 310S(0Cr25Ni20) 310S(1Cr25Ni20Si2)904L(00Cr20Ni25Mo4)
.