DIN 1629 ST44/ST52 Seamless Pipe
1) Size: From 1/2" to 32"
2) Wall Thickness: 2-60mm
3) Length: 4M to 12 M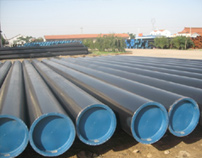 DIN 1629 ST44/ST52 Seamless Pipe
Steel Pipe/Din Seamless Pipe/St44 Seamless Pipe/St52 Seamless Pipe/seamless steel pipe
1) Standard: DIN2448, DIN1629, DIN17175, EN10255, EN10216
2) Grade: ST37, ST44, St45, ST52, S355JR
2) Size: From 1/2" to 32"
3) Wall Thickness: 2-60mm
4) Length: 4M to 12 M

Packing
1) Packing in bundles,
2) Surface: Varnish coating
3) Ends: Beveled or square cut, Plastic capped.
4) The pipes also can be 3PE or FBE or Galv. Coated.

Inspection & Certification
1) Certification: ISO.
2) Mill Test Certificate: EN10204/3.1B
3) Third party inspection: SGS, BV, Lloyds etc.

We are a great manufacturing corporation in China, specializing in seamless steel pipe,
welded steel pipe and galvanized steel pipe. Company through the ISO9001 certification,
we can produce according to the customer's demand.
Heavy Wall Pipe||| A53 Gr.B Pipe|| | Hot rolled pipe| | black steel pipe| Pipe Fittings| | Flange| Steel pipeline| SMLS tube| Hydraulic tube| pipeline| SMLS pipe| Scaffolding Steel Pipes| API CASING| antiseptic pipe| fluid pipe| ||welded pipe| ||longitudinal pipe| ||Steel pipeline| ||Mild steel pipe| ||oil pipes| ||casing pipe| ||machinery steel pipe| ||API 5L pipe| ||API 5CT pipe| ||UHMW pipe| ||EFW Steel pipe| ||Oil Pipeline| ||Hydraulic Steel Tubing| ||Heavy thickness pipe| ||CASING TUBE| ||casing and tubing| ||CNG Cylinder pipe| ||black pipe| ||Sand Suction Pipe| ||SCH40 SCH80 steel pipe| ||helix pipe| ||Helical Steel Pipe| ||casing| alloy pipe|
.